Scheduling regular dental cleaning appointments is an important part of maintaining optimal oral health. Each visit to our clinic hinges on a thorough hygiene cleaning of the mouth with patient education as to how to clean and protect your teeth between visits.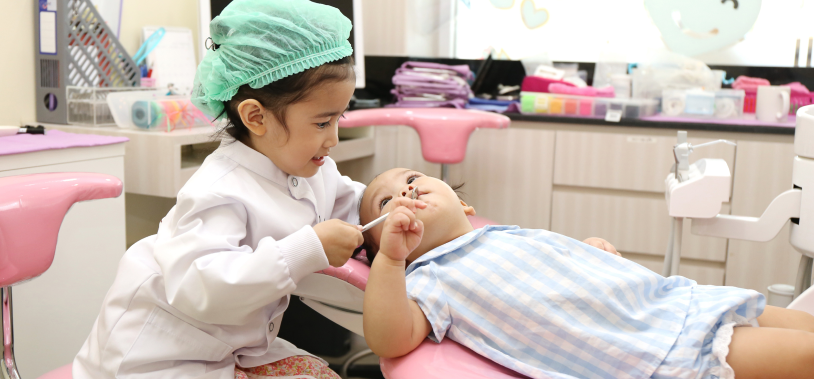 Parents play a vital role in helping to keep their children's teeth healthy and clean. The dental professionals at Kare recommend that children make their first dental visit as early as six months of age. Dentist visits during infancy provide early detection in evaluating your child's oral health as their deciduous teeth are replaced with what will become their full adult set. This allows us to monitor development and make note of any irregularities that may require preventive care or future orthodontic treatment.
The dentists at Kare Dental Vancouver provide you with all of the instructions you need to help your child learn to properly care for their teeth. We also make suggestions as to dietary restrictions to prevent tooth problems during the toddler years. Because our team of professionals are experienced at providing a stress-free dental experience, your child is sure to have a positive visit to our clinic.
Why Should You Take Your Child for a Pediatric Dental Evaluation?
To help understand if your home dental hygiene routine is effective
To identify potential dental issues early and begin preventive oral hygiene habits
To teach your child that regular dental care is important to promote good oral health
From Team Kare
At Kare Dental, you come first! …. We take the time to understand you, to suggest treatments that meet your unique desires and needs. Our highly trained dental team offers all levels of dental service. Visit our clinic and enjoy the breathtaking view. We are conveniently located on Broadway near Canada Line Station.
– Dr. Alphonsus Au
Looking for a dentist in Vancouver? We're happily accepting new patients!
Contact us to get started today. Please call us or fill out our booking form.