Scheduling regular dental cleaning appointments is an important part of maintaining optimal oral health. Each visit to our clinic hinges on a thorough hygiene cleaning of the mouth with patient education as to how to clean and protect your teeth between visits.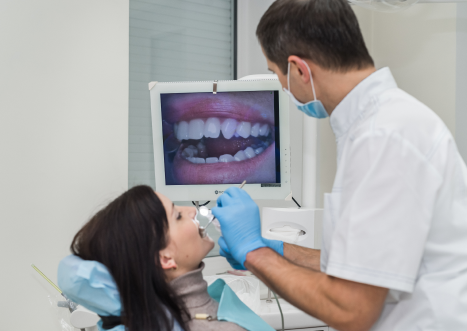 At Kare Dental Vancouver, we make use of an intraoral camera to allow us to view your teeth, gums, and mouth in the most precise possible way. When inserted in the mouth, the camera takes an extremely detailed image which is then displayed on a monitor for you and your doctor to view together in real time.
There are many advantages to using an intraoral camera to help identify oral health challenges and their solutions. They include:
Greater diagnostic ability for the dentist
Because intraoral cameras are equipped with such features as LED lighting, advanced camera head rotation, and strong magnification, your dentist has the potential to see even the most minute details of your mouth, making diagnoses easier to achieve and more accurate overall. We can see even the thinnest hairline cracks, cavities and detect problems early on, allowing more effective conservative treatment and preventing pain and catastrophic fractures of the teeth. The images of your teeth can be included in your file for future reference and to help chart improvements or deteriorations in your overall dental health.
When your dentist has access to photographic imaging that is extremely precise, he or she is better able to make informed decisions about treatment options for your future dental health. But more than this, having images that can be shared with you during your visit helps you to better understand what is happening with your teeth and why treatment may or may not be necessary. The actual images of your teeth are easier for most patients to understand than x rays alone.
From Team Kare
At Kare Dental, you come first! …. We take the time to understand you, to suggest treatments that meet your unique desires and needs. Our highly trained dental team offers all levels of dental service. Visit our clinic and enjoy the breathtaking view. We are conveniently located on Broadway near Canada Line Station.
– Dr. Alphonsus Au
Looking for a dentist in Vancouver? We're happily accepting new patients!
Contact us to get started today. Please call us or fill out our booking form.