Dental Cleaning & Preventive Services
Scheduling regular dental cleaning appointments is an important part of maintaining optimal oral health. Each visit to our clinic hinges on a thorough hygiene cleaning of the mouth with patient education as to how to clean and protect your teeth between visits.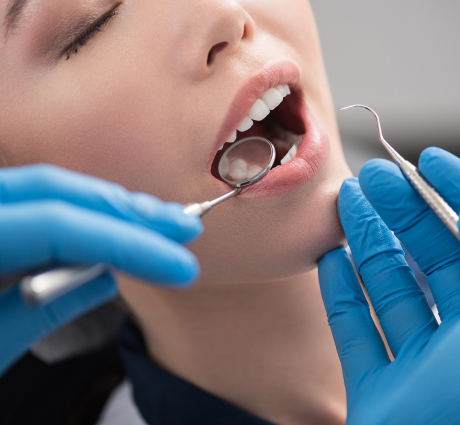 Hygiene Cleaning and Oral Examinations
Oral examinations are very important as they allow your dentist to evaluate any restorative efforts that must be made to ensure good dental health. Following an examination, your dentist or hygienist will thoroughly clean your teeth, making use of ultrasonics and dental scalers to remove any trace of tartar or plaque accumulation which could negatively impact your gum health.
Once the teeth are completely clean, a polisher is utilized to refine and smooth the surface of the teeth and eliminate any staining. The final step is to give your teeth extra protection with a fluoride rinse or varnish to strengthen enamel in order to decrease the risk of getting cavities.
Generally we recommend cleaning every 6 months depending on the state of your dental health. These regular visits allow us to identify any potential problems before they develop into more complicated issues. This approach hinges on preventing dental issues by allowing for regular evaluations of the condition of your teeth, gums, jaw, and bite.
Additional fluoride treatments are sometimes recommended by dentists if your teeth are particularly vulnerable to tooth decay. The minerals contained in the fluoride help to repair lost minerals in your teeth, thereby strengthening and protecting the enamel. This simple step can help prevent more serious problems from occurring in the future.
Closeup Inspection with Intraoral Camera
Our intraoral cameras allow you to view your teeth as we do to assist with evaluating the condition of your teeth and gums and formulating effective treatment plans to promote optimal oral health. Intraoral cameras allow us to include our patients in the process – what we see is what you see. Learn more about the intraoral camera.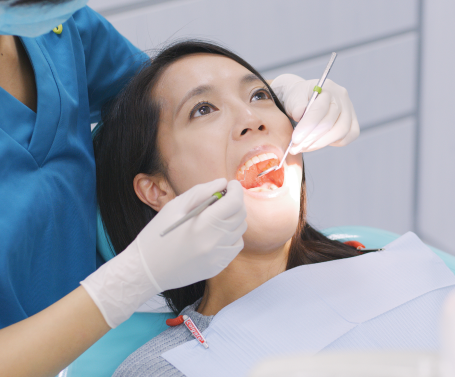 Achieving and maintaining good oral health is a team effort. Twice yearly dental cleanings lay a good foundation for keeping your teeth, gums, jaw, and bite in tip top shape. However, to ensure continued dental health, it is important that you follow the advice of your dentist to maintain a healthy smile between appointments.
Consistency is key to preventing common dental problems from occurring. One of the most important things you can do at home to promote oral health is commit to proper brushing of your teeth. We recommend brushing twice per day for two minutes each time and flossing once daily.
If you ate sticky candy or had beverages or food that is more acidic, you may want to rinse and clean away the residue early on instead of waiting to brush your teeth at the end of the day.
From Team Kare
At Kare Dental, you come first! …. We take the time to understand you, to suggest treatments that meet your unique desires and needs. Our highly trained dental team offers all levels of dental service. Visit our clinic and enjoy the breathtaking view. We are conveniently located on Broadway near Canada Line Station.
– Dr. Alphonsus Au
Looking for a dentist in Vancouver? We're happily accepting new patients!
Contact us to get started today. Please call us or fill out our booking form.