Scheduling regular dental cleaning appointments is an important part of maintaining optimal oral health. Each visit to our clinic hinges on a thorough hygiene cleaning of the mouth with patient education as to how to clean and protect your teeth between visits.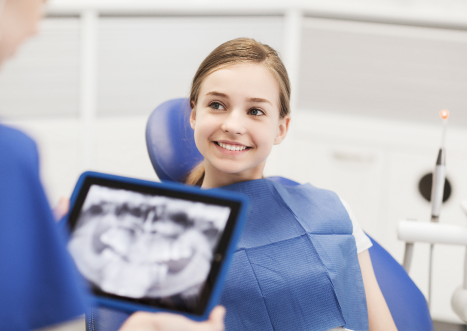 What is Restorative Treatment?
If a visit to your dentist shows some existing dental problems, don't despair. The Kare Dental team of professionals can help you find a solution to restoring your perfect smile. Our restorative services are multi-pronged and include such options as fillings, veneers, crowns, dental implants, bridges, and dentures. We make it our mission to preserve as many of your own teeth as possible, using prosthodontic measures where necessary to improve imperfections or missing teeth.
Among the problems Kare Dental's restorative services can address include:
Fillings can be used to treat cavities or to repair damaged or worn teeth. They are also an effective and minimally invasive treatment for repairing teeth that are cracked or broken. If you have cavities, do not wait too long before you treat them. Ignoring cavities will mean lingering pain. If you wait too long, the teeth may need a root canal, a more complicated procedure than a filling. At worst, the teeth may not be savable and you need to extract it.
Dental implants are a permanent solution to address problems such as missing teeth that cannot be saved. Today's implants typically are constructed of titanium metal and placed inside the jawbone. Once securely in place, the implant can then be affixed with an artificial tooth crown.
Dental bridges help to replace missing teeth by inserting a false tooth between two firmly anchored teeth. They are most commonly made of porcelain in the exact shade of your natural teeth to make the replacement tooth undetectable to the naked eye.
Dental crowns are an excellent solution to address the problem of damaged, cracked, or partially missing teeth. Crowns are applied to cap the top of an affected tooth and offer a more attractive appearance or shape to improve your smile. They are most often made of porcelain or ceramic to ensure they perfectly match your own teeth.
Complete & Partial Dentures
Dentures, whether complete or partial, offer an excellent solution for people who have lost several teeth and the tissue around them. The dental appliance is custom designed to fit your mouth perfectly, providing an ideal fit and appearance that matches your natural teeth. Dentures are fully removable.
From Team Kare
At Kare Dental, you come first! …. We take the time to understand you, to suggest treatments that meet your unique desires and needs. Our highly trained dental team offers all levels of dental service. Visit our clinic and enjoy the breathtaking view. We are conveniently located on Broadway near Canada Line Station.
– Dr. Alphonsus Au
Looking for a dentist in Vancouver? We're happily accepting new patients!
Contact us to get started today. Please call us or fill out our booking form.