Gum Health
(Periodontics)
Scheduling regular dental cleaning appointments is an important part of maintaining optimal oral health. Each visit to our clinic hinges on a thorough hygiene cleaning of the mouth with patient education as to how to clean and protect your teeth between visits.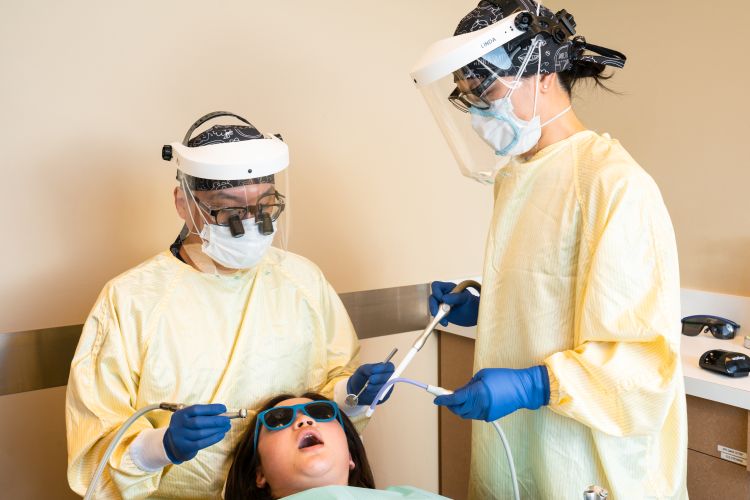 Gum Health (Periodontics)
Periodontal issues are often commonly seen through early symptoms such as gum recession, bleeding gums, and bad breath. Periodontitis causes erosion of the gum and bone around the teeth, eventually leading to tooth loss. Unfortunately, gum disease is usually slow, progressive, and painless, meaning it is often identified too late.
Sadly, it affects many adults in Canada. To help prevent periodontitis, we recommend regular dental cleanings and ongoing appropriate dental hygiene at home, including brushing the teeth and gums twice daily and flossing once per day.
There are some corrective procedures which can help to alleviate the damage caused by periodontitis. These treatments are helpful at achieving the following results:
Bacterial removal from underneath the gums
Improved ease and effectiveness of tooth and gum cleaning
Reshaped bones to better support the teeth
Prevention of further damage to the gums
Among the treatments recommend to reduce the effects of gum disease are:
Bone grafting

Flap surgery
Soft tissue grafts
If you have any concerns with your gums, please come for a visit.
From Team Kare
At Kare Dental, you come first! …. We take the time to understand you, to suggest treatments that meet your unique desires and needs. Our highly trained dental team offers all levels of dental service. Visit our clinic and enjoy the breathtaking view. We are conveniently located on Broadway near Canada Line Station.
– Dr. Alphonsus Au
Looking for a dentist in Vancouver? We're happily accepting new patients!
Contact us to get started today. Please call us or fill out our booking form.