Scheduling regular dental cleaning appointments is an important part of maintaining optimal oral health. Each visit to our clinic hinges on a thorough hygiene cleaning of the mouth with patient education as to how to clean and protect your teeth between visits.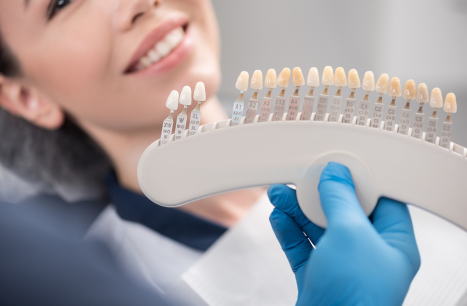 Kare Dental Vancouver is pleased to provide cosmetic dentistry services to help address common problems with the appearance of your smile. Cosmetic procedures can be employed to address a number of different problems including staining, discoloration, chipping, broken teeth, gaps, misalignment, and much, much more. A consultation with our Vancouver dentists can help you identify the right cosmetic oral health treatment to help you achieve your goals.
Teeth whitening offers the perfect solution to teeth that have become dull, stained, or discolored throughout the years. Our quick 30 minute in-office teeth whitening procedure involves bleaching the teeth with specially formulated dental whiteners to restore your smile. During this procedure, we will also apply a desensitizing agent to the teeth and protective gel to the gums to minimize the common temporary side effect of tooth sensitivity after any type of whitening procedure.
Another type of cosmetic dentistry offered at Kare Dental Vancouver, veneers are custom-designed thin pieces of porcelain that are applied to the surface of your teeth to improve their appearance. Veneers are applied using a strong bonding material, making them permanently affixed to your natural teeth.
From Team Kare
At Kare Dental, you come first! …. We take the time to understand you, to suggest treatments that meet your unique desires and needs. Our highly trained dental team offers all levels of dental service. Visit our clinic and enjoy the breathtaking view. We are conveniently located on Broadway near Canada Line Station.
– Dr. Alphonsus Au
Looking for a dentist in Vancouver? We're happily accepting new patients!
Contact us to get started today. Please call us or fill out our booking form.